gogo
0

April 7th, 2014 + 1:04 AM
·

gogo
Hi guys, my acoustic band and I are in a contest for a prize (200 bucks) on facebook, we'll win if our picture gets most "likes", so if you can help us, we would be very gratefull. You can like our picture here
https://www.facebook.com/180811841997772/photos/a.621517717927180.1073741827.180811841997772/621517727927179/?type=1&amp
;theater¬if_t=like
Thanks and greetings from Croatia
0

September 30th, 2012 + 4:09 AM
·

gogo
Hi, few days ago i've uploaded 1 new song called UFO, but it's only an instrumental track, because of the problems with my singer (it's a long story
).
If anyone would be interested in recording the vocals for this song, and few new songs that i've recorded, It would be really great. Contact me. Thank you, and greetings from Croatia.
0

November 30th, 2009 + 5:11 PM
·

gogo
We'll be back with new songs very soon.
Hope you'll enjoy listening to new material.
Greetings from Croatia
3

July 18th, 2015 + 3:07 AM
·

gogo
This was recorded in July of 2015, in my home studio (Daruvar, Croatia). I dedicate this instrumental to all of my good friends that I have played with, studied and spent time with, in Osijek (Croatia).
Damir, Tihomir, Mario, Paulina, Sabina, Vlatko, Tomislav Ivana, Dijana, Tajana, Dejan, Dragan, Dalibor, Matija, Domagoj, Josip, Slavica, Tea, Petra, Alan, Željko itd.
It was recorded in collaboration with my dear friend Tomislav Pavelić from Osijek.
"Dreamland" is an alternate universe where we're all still playing together, spending time together and enjoying the life.
Equipment used for the track:
Electroclassical guitar: Almeria CC-46 SEQ Classic
Electric guitar: Squier Telecaster Affinity with Seymour Duncan Little 59 on bridge and GFS humbucker on neck, Jack & Danny WR Wine Red .
Bass guitar: Stagg copy of Fender Precision
Soundcard: Line6 Pod Studio GX
Software: Adobe Audition CS, Pod Farm 2, Fabfilter Pro Q, Nomad Factory EQ, Izotope Ozone, Fruity Loops Pro.
14

December 24th, 2014 + 7:12 AM
·

gogo
This is the newer version of the song "Run your love over me". It was recorded in very modest conditions, so have mercy
Since July 2014, I'm living and working in Germany, so my music career is in a frozen state, but I'll keep on writing songs, recording them, producing etc. I wanna say thank You to all of You that are still listening my music, You're all amazing. Merry Christmas and all the best
Greetings from Croatia.
6

May 28th, 2014 + 1:05 PM
·

gogo
We recorded this one very quickly. Since I'm leaving Osijek in two days, after 10 years of living here, I've made a few friends, fell in love, lost love, etc. This song is in Croatian, and we recorded this as a nice memory on times we've played together, spend time together etc. I hope you'll like it, everything was recorded with very humble equipment, but I think we did it very good. You can checkout the video too, here
Thank you all for following my work
Love you all guys/girls
vocals: Paulina & Sabina Kolgjeraj
guitars, drums and audio production: Goran Vedriš
bass, keyboards and video production: Tomislav Pavelić
Here are the lyrics, croatian, and raw english translation ....................
Greetings from Croatia
Život me nije mazio, svaku sam riječ pogazila Life has not treated me well, I broke every word
kule od karata uzalud gradila built towers of cards in vain
Sljedila tvoje korake, koji me nikud ne vode Followed your steps, that do not lead me anywhere
još uvijek sanjam te, ti progoniš me kao utvara .... I still dream of you, you're haunting me, like a wraith
Al jednom ja ću pobjeći, svoj razum sačuvati But for once I'll get away, keep my sanity
tebe izbrisati (tko si to ti?) delete you (who are you?)
Sad lutam bez cilja sam, ni brige ni kajanja Now I wonder aimlessly, no worries no regrets
duhove prošlosti po strani ostavljam, i eto opet ti .... Ghosts of the past I leave behind, and here you are again
Protiv tvoje obmane, egorcizmi ne pale Against your deception, exorcisms don't work
Uzalud mi bježanje, predajem se nosi me Running away is useless, I give up carry me
Znam da je sada prekasno, da ispočetka krenemo I know that now is too late, to start once again
Razloga zašto ne ima dovoljno there are reasons why not
Još uvijek progoniš me, u drugima vidim te You're still haunting me, I see you in others
Daj me izostavi, oslobodi me, svoga progona ...... Leave me out, free me of your haunting
Protiv tvoje obmane, egorcizmi ne pale Against your deception, exorcisms don't work
Uzalud mi bježanje, predajem se nosi me Running away is useless, I give up carry m
4

May 11th, 2014 + 4:05 PM
·

gogo
Unfortunatlly, we weren't able to go to the studio, but we've been rerecording songs for our first demo record, and this is the new version of the song "Future obsession". I hope you'll like it, it was redone
I did the production, and played all the instruments, my friend Dino sang the song.
4

February 23rd, 2014 + 6:02 AM
·

gogo
We've been recording and making a video for my croatian song"Ti želiš da je kraj" meaning
"You want it to be the end". I wrote this song for my ex girlfriend.
http://www.youtube.com/watch?v=HC45pmf5juc&feature=youtu.be
You can checkout the video on youtube.
Guitars and drums and audio production were done by me, vocals were done by Dino Purić,
bass guitar and keyboards were played by Tomislav Pavelić, who also did the video production with Zdenko Sitek.
People in the video are:
actress: Monika Benić, bass guitar: Antun Potnak, drums: Siniša Ivanović, cameraman, scenarist: Zdenko Sitek, vocal: Dino Purić, keyboards: Tomislav Pavelić and guitar: Goran Vedriš.
Video was recorded in Osijek (Croatia) and
Raw translation of the lyrics from croatian to english would be (not english version of the song):
You want it to be the end, why are you crying and laughing at the same time
Now it's easy to say that we were going too fast
Everything we built together has vanished like a smoke
You're hiding, is there someone else?
And when you say "I love you" I know you're lying
I don't trust you anymore, I don't know you anymore
My pillows are still carying your scent
Sometimes I dream of you, sometimes i expect you
It was easy for you to say goodbye
But when you think about it better, we were destined to be
Without you I disappear, without you i stop to exist.
You want it to be the end, you want it to be the end
Alias:
gogo
Status: Offline
Threads:
21
Posts:
86
Songs:
21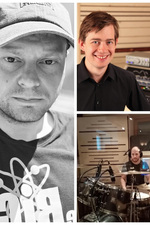 Joined: June 03rd, 2003
Last login: January 05th, 2020
My Messengers
| | |
| --- | --- |
| AIM: | n/a |
| ICQ: | n/a |
| Skype: | n/a |